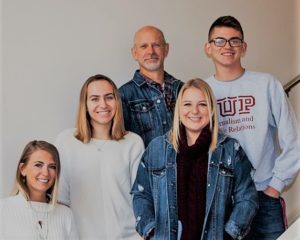 The team at 2020 Parenting. A dad and four college students trying to help modern families stay ahead of (or just keep up with) their kids.
Erick Lauber, Ph.D., is an applied psychologist and faculty at IUP. Currently he teaches leadership and journalism courses and his research is on community health.  His scholarship has appeared in more than 100 magazines and books and his educational media products have won over two dozen national awards. His most recent parenting articles have appeared in Parent News, Apple Family Works, Women's Sourcebook, Today's Family Now, and Positively ADHD. Erick and his wife, Betsy, live in Indiana, Pennsylvania, hometown of Jimmy Stewart. They've been married 27 years and their three kids have all moved out (yeah!) and they are enjoying being "empty nesters". (Though Erick still misses having the kids around.) Casey, 24 (boy), lives in Pittsburgh; Emily, 23 (girl), lives in Dallas; and Jesse, 22 (boy), lives in Columbia, SC.
Katie Mest is currently a junior at IUP studying journalism/public relations and marketing. She is the managing editor at The Penn (IUP's student newspaper) and has been working with Dr. Lauber on his projects for about a year. She loves the idea of creating a blog because it's something she's been interested in diving into for a couple of years now. She writes that "through our other projects, we've seen and worked with parents that needed a fun/easy way to access information that they should know about their children, so a blog is perfect!"
Seth Woolcock is a junior journalism and public relations major at Indiana University of Pennsylvania. He's originally from Kane, PA,. He currently works as The Penn's (IUP's student newspaper) Editor-in-Chief while also working for the MARTI Institute at IUP.
Lily Whorl is a student at IUP majoring in journalism and public relations with a minor in communications media. Though her passion for public relations and communications is deep, that wasn't always the case. She came to IUP thinking she would be a high school gym teacher. Clearly, that is no longer the plan. She jumped around from major to major until she found her place. In the future, she sees herself working at a public relations firm in the D.C. area, but for now, she's enjoying her last year at IUP and learning as much as she can from her experience working on 2020 Parenting.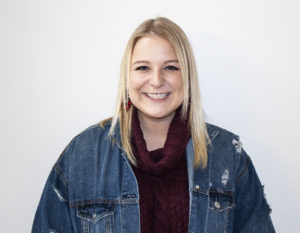 Morgan Rihn is a junior marketing major with a hospitality minor at Indiana University of Pennsylvania. Morgan is from Indiana, PA and has lived there her entire life. She is the events coordinator of IUP's American Marketing Association. She's also a marketing intern at the Kovalchick Convention and Athletic Complex. She holds a work study job on the campus and works with the MARTI Institute at IUP. Morgan looks forward to creating these blogs and helping parents understand what their kids are up to.